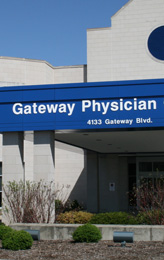 Evansville Surgery Center was awarded the 2013-2014 Voyance National APEX Quality Award. This award recognizes outstanding healthcare organizations that have demonstrated the highest level of excellence in patient satisfaction and overall care over the preceding 12 months. Providers are recognized as best-in-class performers based on patient feedback provided during a 12-month period. Award criteria emphasizes patient-reported measures that have the highest correlation to behaviors that promote effective care as opposed to those being purely experiential.

Team of Board Certified Anesthesiologists

All of our anesthesiologists are certified by the American Board of Anesthesiology. Click here to learn more about our team!

HFAP Accreditation

HFAP accreditation is recognized nationwide as a symbol of quality. It reflects our organization's commitment to excellence.

Individualized care

Our staff members have been carefully selected for their extensive experience, advanced training, and dedication. They take a personal interest in you before, during, and after your surgery.

Two convenient locations

Our locations are easily accessible.

Less "red tape" for patients and physicians

Our admission process is streamlined. In most cases, you will only be required to arrive one to two hours before your procedure.

Services covered by most insurance carriers

The Evansville Surgery Center is a preferred provider for most health insurance carriers.

State-of-the-art technology

State-of-the-art technology and precision instrumentation are always available at the Evansville Surgery Center.

Overnight and personalized aftercare

Because of the complexity of your procedure, you may require an extended recovery. Our comfortable overnight suites are tastefully decorated, and include private baths. You will be reassured to know that your nurse is just a step away.

Special services for women and children

We offer a full spectrum of surgical services for women. Because of our friendly, caring staff and the less intimidating nature of our facility, children are more comfortable at the Evansville Surgery Center.

Patient satisfaction

The way you feel about your care is important to us.